10 Cheap Wardrobe Staples
We are all occasionally guilty of staring into our cramped, overflowing wardrobes and claiming we have nothing to wear. Absolutely nothing. As much as this probably isn't exactly true, not having enough go-to pieces that pair with everything is an avoidable mistake to make. It's surprising how cheaply you can achieve this and put together a practical collection, as long as you know what you're looking for. I've put together a list of 10 items that should help to 'complete' your wardrobe and give you room to shop for impractical, fun items to go with your trusty pieces. You never deserve to suffer from the "WHAT-DO-I-WEAR" conundrum ever again…
(Click on the images to be sent to the webpages!)
 1. Lightweight Bomber jacket – £30
This bomber is a steal at only £30, and pink is a lighter option to black making it perfect for spring/summer. It's light enough to wear even when the weather warms up and will go just just about anything.
2. Cropped sweater – £17.99
You can never have too many stripes, right? This sweater is great, as it's cropped it can be paired nicely with high waisted shorts, trousers or skirts. This could be worn to work or for casual wear, and it sure to get the compliments rolling in as it's definitely an eye-catching piece.
3. Shirt dress – £18.00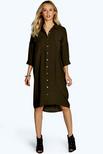 The length of this skirt dress is slightly longer than many of the others you can find on the high street, making it perfect for work paired with heeled black chunky boots. If you prefer a more fitted look, add a black or a tan belt to cinch in the waist. If you're going on holiday, this could also be the perfect dress to wear to the airport as it's loose and would be so comfortable to slip on with sandals or trainers.

4. Culottes – £9.99
My housemate recently came home with a pair of these and I couldn't believe what good value they were! I've been looking for a pair for ages, but with the worry that they wouldn't suit me I've been avoiding it as I thought I'd have to spend at least £30 on a nice pair. These come in at just under a tenner, and obviously black can be worn with so many other items! New Look is excellent for culottes, and have a range of other colours and variation of styles, so it's worth having a look.
5. Black & white bodies – £20 for 2
Asos is great for multibuy packs. The high necks of these tops make them perfect for work or going out, for example paired with gold hoops or a chunky statement necklace. Bodies are perfect for tucking in, so the white one of these would look great with the black culottes above. Have a browse on Asos for loads of other styles and colours, building your collection of items like this will ensure you're never stuck for something to wear.
6. Jeans – £42
£42 is slightly more than most of the other items on this list, but having experienced Topshop jeans myself, they are worth the investment. They last a lifetime and keep a nice fit without losing shape. There are so many styles to choose from and the sizes are done by measurements, making it easier to find your perfect fit.
7. A kimono – £12.99
This kimono from H&M not only comes in black, but also comes in some pretty floral prints if you're thinking about buying it for holiday or just summer in general. This is a great item to have in the summer because it's lighter than a jacket but still allows you to cover up when you fancy. I've also seen some gorgeous metallic kimonos from Asos in gold and silver, which are amazing, go with anything and are only around £20.
8. A purse you're proud of – £9.99
Finding a good purse can be hard. It's easy to be fussy with something you will end up looking at almost every day. This blue purse from New Look is basic but practical, and lighter coloured purses are easier to spot if you carry a large bag around with you. This one is also big enough to keep loads of cards in, if you're anything like me and have a 'loyalty' card to everywhere…
9. Black turtleneck – £10
This is really good value, as you can find tops similar to this on the high street ranging from £6-30. Black can be paired with pretty much everything, and tucking this into high waisted trousers could give you the ultimate professional look for work. Or, perhaps with heels and high waisted shorts for a night out. This is one of those items you'll get endless use out of.
10. Denim pencil mini skirt – £36
90s fashion has come back massively this year, and this blue denim mini skirt shows off this trend perfectly. Whether you decide to pair this with one of the cropped hoodies from Urban Outfitters or a plain and simple striped tee, this will get worn to death all summer so it's definitely worth a buy.

I hope these 10 Cheap Wardrobe Staples have helped you see how easy it can be to build a practical wardrobe! Please let me know if you have any item recommendations in the comments. Happy shopping!